adding driving lights to a '98
08-17-2010, 07:59 PM
Junior Member
Squid
Join Date: Jul 2010
Posts: 9
adding driving lights to a '98
---
I hate riding at night (deer country) but would still like the option.
In a perfect world, I would turn night into day with a flip of my GOD switch and dim the windshields of oncoming traffic instead of being dazzled to blindness through my faceshield by every oncoming semi.
I'm sure someone somewhere has thought of this or even tried it, but I can't seem to find the right way to search for old threads.
First, I know I need to work with the amount of power my alternator puts out before adding auxiliary lights. How much does the bike make stock, and are there non-stupid ways to upgrade it?
Here's the idea. Install rearview mirrors with integrated turnsignals, then mount some serious driving lights using the fairing ports where the old turnsignals were before the mirror swap.
Are the turnsignal mounts adequate to hold a heavier light?
Has anyone tried something similar, and what were the results: ugly bike, fried electricals, etc?
TIA
08-18-2010, 04:28 AM
Actually a HID draws less than stock, 35W vs 55/65W of the stock H4 bulb... So does the LED's... So in the end you put less total load on the system, but unfortunately you are now putting greater load on the R/R to get rid of the excess as heat... You could use that to add driving lights as well if you really like...

BTW when I talk about HID I talk about a projector, retrofitted into the housing... Absolutely not a HID H4 bulb whatever kit dropped into the stock reflector... It's not even close in performance... More light, but mostly in the wrong place... And depending on the aim it could actually casue an accident, blinding an oncoming driver...
08-18-2010, 07:53 AM
Senior Member
SuperBike
Join Date: Aug 2009
Location: thorold ontario
Posts: 1,978
gotta agree with tweety, i did an fxr projector with bulb and ballast for like 175 bucks. took me an hour to put it together. and its incredible. night time riding is no longer an issue
this is my low bea, lighting up the fence in my backyard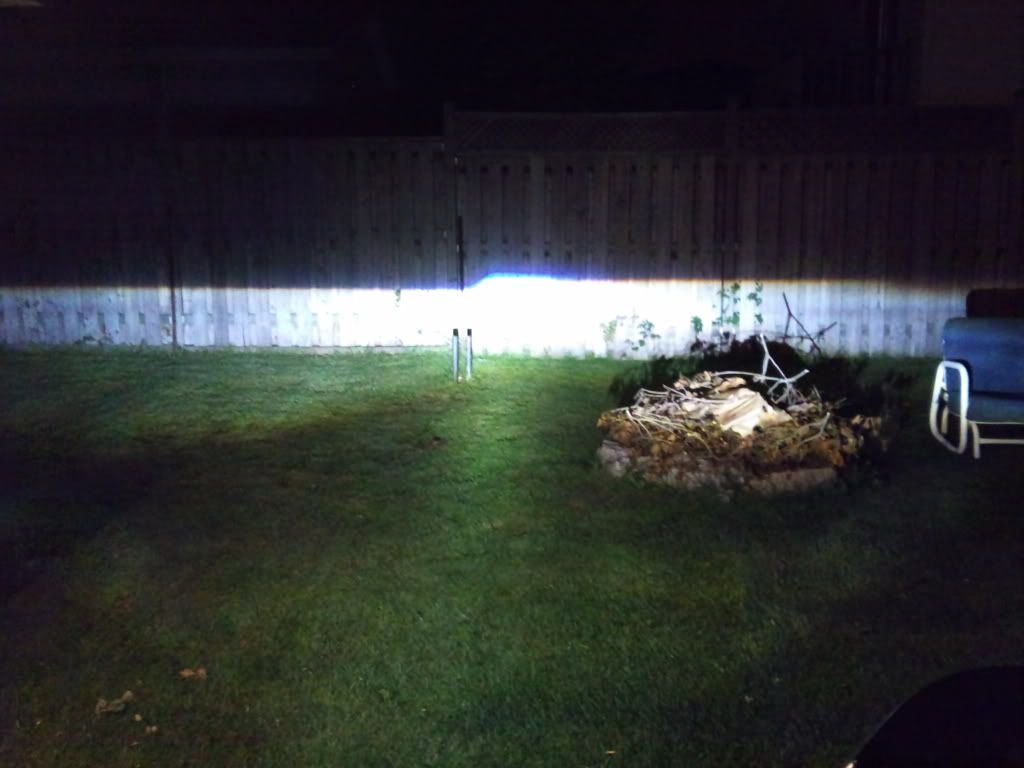 08-18-2010, 01:53 PM
08-30-2010, 06:42 PM
Hi Uchi, how are you?...
Can you tell me more about the headlight conversion? And any ideas for the daytime running light (above the headlight)...mine looks like a candle!
Cheers...John
11-16-2010, 07:51 AM
Light Whore
Squid
Join Date: Nov 2010
Posts: 45
Thread
Thread Starter
Forum
Replies
Last Post
Modifications - Performance