Picking this '98 up Sunday
09-02-2016, 03:39 PM
Picking this '98 up Sunday
---
Well I found a pretty beat up '98 that had enough going for it to encourage me to give it a try, mainly for track day use. It has a rebuilt title, is currently being ridden by the present owner and is described as running well and mechanically sound.
It looks to have OEM tensioners and am told approximat 30k miles. The bodywork is rough, note the hacked out upper sections to allow for clip-on clearance. Zip tied for mounting bolts, ha!
I think the cbr1000rr front end and PM chicane rear rim sealed the deal for me :-). Picking it up Sunday, hoping to see no major additional issues with it.
Some pics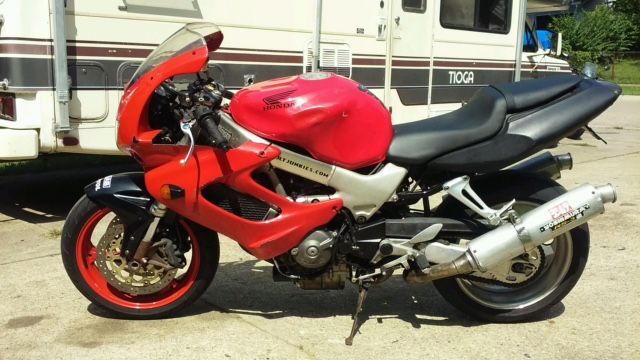 09-03-2016, 06:34 PM
09-05-2016, 10:33 AM
Brough it home yesterday. 5.5hrs drive each way. I took it for a spin in the Walmart parking lot, so only had it up to around 40mph on the access road but it seems to shift nice and feel right as I accelerated, swerved and tested the brakes a few times. I owned my prior '98 for about 8 years and this brief ride reminded me that I never should have sold it.
Now I need to clean it up, change out the fluids and begin to sort out the bodywork.
09-23-2017, 12:52 PM
It's been a while with no update. We moved in December and that out most moto projects on the back burner. Over the winter I did drop it off to a local shop, the owner and mechanic has a great background and is a trusted wrench. He replaced two valves in each head, they were very tight and the valves had deformed a bit. Had manual tensioners put in and some jetting work.

I took it to Pitt-Race in pa last weekend and definitely had some fun on the old girl. It had been a few years since I was on the track and it took me some time to get comfortable. I felt a bit stretched out with the low bars and I have a big flat spot in the jetting above 4500 and that was pretty annoying while rolling on the gas exiting some turns. So overall it was great to get back on the VTR, a bike I've done a couple dozen track days on from 2002 onward (different vtr).

My mistake last weekend was taking out my 2012 triumph street triple-R after the lunch break. It was comfortable, it was light and changed direction so effortlessly, the motor has a bit of grunt and will rev out nicely. By comparison It brought out the age of the vtr. I'm a little older (and rounder) than I was in 2002, and it was nice riding a bike on track with such minimal effort.

So here I am now contemplating picking up a track only Triumph, but to do that I'll be either selling off this vtr or parting out the good stuff. I did put on a nearly new looking Ohlins shock, Ohlins side mount damper and high mount Jardines before the trackday. The PM Chicane rear rim (with 190 tire) sure looks neat :-)

So keep an eye out for a classifieds post at some point, I'll likely start here before eBay.
Thread
Thread Starter
Forum
Replies
Last Post
Modifications - Performance