fairing repair (pretty much done w/ pictures)
02-16-2009, 11:41 PM
fairing repair (pretty much done w/ pictures)
---
it was requested that i post pictures of my process while repairing my left fairing. so here they are.
this is what i had to work with
my tools
i used a dremel to make the surface area good and rough
used vice grips and a clamp the hold the pieces together (by the way, the mounting hole fortunately snapped into place, so it held itself there)
threw down a layer of abs cement and then a layer of window screen fiberglass patching
then another layer of cement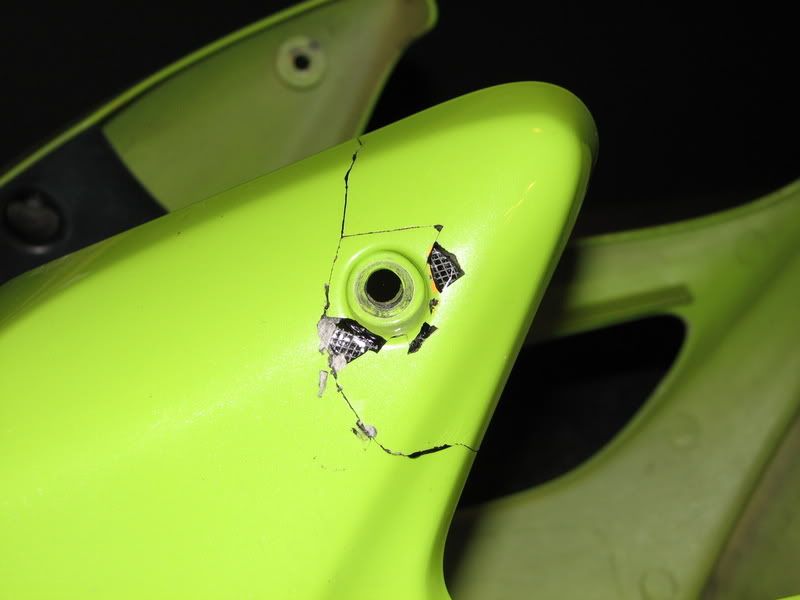 i know its not beautiful, but its feels a lot tougher than it was before, and its together, which is all i really wanted anyway.
02-17-2009, 03:59 AM
I found some 2-part expoy type plastic repair at the local ACE Hardware last fall and it did a great job on the ABS fender I was working on. It sanded pretty nice and the paint stuck well. I'd suggest giving that a try to fill in those spots. I can't remember the exact name of the product but I think it was made by Devcon.
02-17-2009, 03:45 PM
02-17-2009, 05:56 PM
oh. I was assuming he was going to have to repaint it. I have a trashed blue fairing that is perfectly intact on the bottom. I would personally think it would be easier to transplant a section rather than piece together a bunch of fragments. just my 2 cents.
Thread
Thread Starter
Forum
Replies
Last Post