Cheap rear fairings on fleabay?
03-07-2018, 02:16 PM
Cheap rear fairings on fleabay?
---
Anyone have any experience with them? Mine is currently held to the subframe with pipecleaners and zipties, and likewise is holding the rear light assembly on with zip ties. Will eventually crack and become irreparable, so I'll need a replacement. New OEM appears to be about $300. Ebay has some chinese replacements for less than half that. They are described as not always fitting well, so other than that, anyone tried them? Or have other ideas to economically fix the rear fairing. Thanks.

Color not important, I have a black tank and the rest of the plastics have been removed.
03-07-2018, 04:09 PM
How handy are you? Been using this stuff for years to repair my motorcycle fairings and it's magic. Used/prepped properly it's stronger than the original plastic. I've repaired countless cracks and even made my own mounting tabs out of scrap and plastic welded them on with this. I'd always prefer to repair an OEM fairing over that Chinese stuff. But having said that other than the possible fitment issues and having to maybe drill or enlarge some mounting points for proper fitment I'm sure it's a lot less work and they probably look good enough...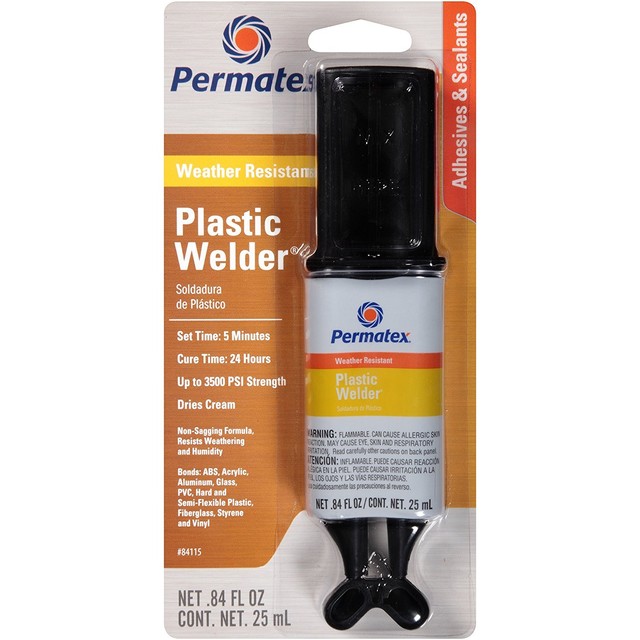 03-07-2018, 04:11 PM
And by the way this stuff mixes nice and thick so it's easy to work with. Get it online or in the auto parts store. Unlike the similar stuff (different brand) in the hardware stores that mixes very runny.

If you want to try your hand at fixing your cracks it's not hard. Drill a hole at the end of the crack and it'll keep it from spreading further. You also want to sand the paint off around the crack and feather it in a bit inside and out where the repair is.
---
Last edited by captainchaos; 03-07-2018 at

04:13 PM

.
03-07-2018, 07:14 PM
Cool, yeah, I can definitely give that a shot. Can't make it any worse. It's in my big A cart. Thanks!

Had another idea, don't know if it's worth messing with. Seems like the subframe provides inadequate support to the fairing, so a lot of the weight is allowed to vibrate, worsening the issue. You think it would be helpful to put some expanding foam inside the fairing (with it dismounted), scrape/carve/scree it down, and then cut out channels for the subframe? Might add a bit of weight and maybe cut down on vibration. Or might be a big messy hassle for nothing.
03-07-2018, 07:30 PM
You know after all the years that have passed since new I've seen various states of hackery on anything used. Off the top of my head ORIGINALLY the front mounting points should have rubber inserts inside them (with a metal insert inside that for the mounting bolts), the top rear mounting points under the seat have little plastic washers under the screws and then the two tabs that are usually broken off on the underside really don't bear any weight... Mounted properly there should really be no weight on the fairing itself and it mounts pretty solidly. Again over the years who knows, I can't see how yours is now mounted and if your fairings are missing and the tail is cracked it's probably a safe bet the bike has been dropped at least once lol and usually they're not put back together properly. If you check out the microfiche on a place like Ronayers.com or Partzilla.com you can see exactly what goes where and what hardware is used. Reverting to the way it was originally done is usually a good starting point/base to make things right again. If your subframe happens to be bent or damaged I have about 3 of them up on a shelf in the garage lol.
03-12-2018, 08:09 AM
Thanks for all the input. I'll skip the expanding foam I think. I did check out the parts I think I'll need and I'm planning to get a pair each of
4, 17, 18, 20, 21, 23
https://www.ronayers.com/oemparts/a/...seat-rear-cowl
The clips will have to be OEM but the nuts and washers seem like just normal general things - is there any reason not to hunt down a 30 cent replacement locally?
Edit: also, do you see any problem with "reinforcing" the top/rear mounting tabs with a metal washer?
03-12-2018, 08:49 AM
The bog standard fittings are usually sufficient if all the plastic tabs are okay. But the bottom tabs are a PIA as they have crappy placcy screws and take a bit of strain if rear luggage is slung across the tail piece.
Cheaper Top hat fittings are avaiable from ebay - I use extra nylon washers on the rear top two screw fittings.
https://www.vtr1000.org/phpBB3/viewtopic.php?f=9&t=26537
---
Last edited by Wicky; 03-12-2018 at

08:51 AM

.
03-12-2018, 11:34 AM
Thanks! Link not found btw.
Couple things I should probably clarify:
Front and bottom tabs are fine
Rear tabs are broken, not even a full circle
Taillight/inner tabs are broken/missing

I was thinking that permatexing in a washer would serve as a nice, premade hole for the ones that are broken, and might be a worthwhile preventative on the bottom tabs. I already have metal washers - you think it matters if I use metal or nylon? I can think of pros and cons for each but have no experience.

I use the bike for commuting pretty much exclusively, so no cargo weight is expected.
03-12-2018, 02:14 PM
You can mould new tabs with some craft and plastex (aka dental two-part plastic) or the two part epoxy above (with mouldable blue stuff bar). I reinforced repairs using thin sheets glass fibre.
https://www.ebay.co.uk/itm/Blue-Stuf...-/281151002352
https://www.vtr1000.org/phpBB3/viewt...=26537#p233446
Try the link again - last one mutated somehow
Thread
Thread Starter
Forum
Replies
Last Post